• Further ChromaCUT X Pro for plant in Delmenhorst
• High level of automatisation
• Machine is equipped with presettable rotary die-cutter
• Third machine for Klingele Paper & Packaging Group
The Klingele Paper & Packaging Group invests again in a ChromaCUT X Pro from Koenig & Bauer Celmacch. The machine will be delivered in April 2024 and production start up is planned for July 2024. The partnership between the two companies thus finds a successful continuation. "When we started developing the first machine with Koenig & Bauer just over five years ago, I felt that another premium supplier would be a benefit for our industry. The last few years have proven that Koenig & Bauer is now exactly that supplier," says Dr. Jan Klingele, Managing Director at Klingele.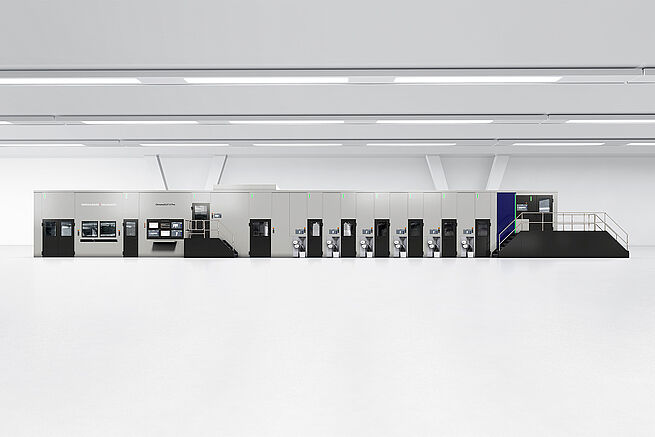 The new ChromaCUT will be installed directly next to the first machine that went into production in 2019. The hall specially built at that time was designed to accommodate another rotary die-cutter. Klaus Lüke, responsible for technology at Klingele: "Of course, it was also a certain risk for us at that time, but the trust, the professionalism and the very good cooperation have led to the fact that we can speak of a real success story."
Besides the machine at the plant in Delmenhorst, there is a second machine at the plant in Werne, producing since end of 2022. "We can be proud of our new technical features. In contrast to the prototype, the current ChromaCUT X Pro has once again improved significantly", says Hannah Potrawa, Director Corrugated at Koenig & Bauer. "What we have all achieved together in recent years, both internally and with our customers, is truly impressive: we have developed from a newcomer in the industry to an established premium supplier."
High Level of Automation and presettable Rotary Die-Cutter ensure an Increase in Production
For the first time a ChromaCUT X Pro for Klingele will be equipped with a presettable rotary die-cutter. The die-cut cylinder that is not in production can be set up during running production. At the end of the job, the die-cut cylinders can be changed fully automatically and within a few minutes. Software upgrades, which further increase automation and make it much easier for operators to work on the machine, are also an important and integral part of the machine. Other new solutions have simplified and perfected the interfaces with the peripherals. Due to the complete networking of all units – from the prefeeder to the palletizer – all production data can be automatically transferred to the machine. Patrick Ginter, Plant Manager in Delmenhorst, and his team are looking forward to the machine: "The simple, intuitive, automatic and ergonomic operation of the machine is a significant relief for our operators. As a result, follow-up orders can be prepared more efficiently and we can increase the production and work even more efficiently." In addition, the machine is equipped with all important unique selling points and automations, such as Easy Job Change.