New partnership to develop innovative solutions for financial literacy
Empowering young people through financial education
Improved quality of life and active contribution to national socio-economic development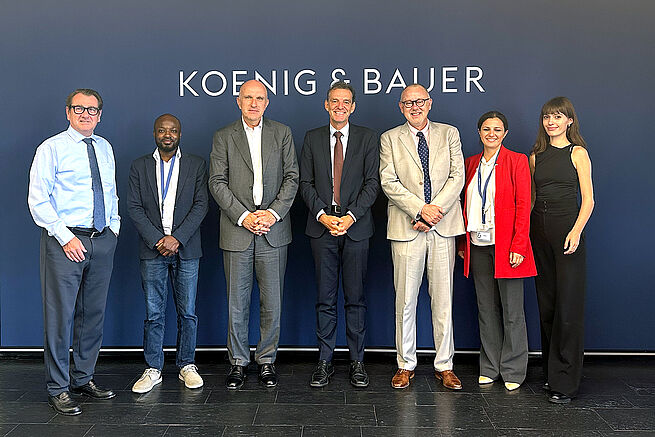 Koenig & Bauer Banknote Solutions and Aflatoun International, the global leader in innovative and highly contextualized financial literacy ecosystems, announced a partnership to explore and develop new ways to enable access to vital financial literacy resources using banknotes as a familiar and logical tool for financial skill development.
More than 3 billion people worldwide do not possess adequate financial literacy skills to actively contribute to national socioeconomic development and most importantly, their own quality of life improvement. Absence of these essential 'life-skills' represents a significant challenge in cash-dependent emerging nations Aflatoun aims to work with a wide range of stakeholders to provide innovative yet practical solutions to improve levels of national financial literacy.
Koenig & Bauer, renowned for its innovation in banknote production technology and commitment to social responsibility, recognizes the importance of empowering young minds with knowledge. Through the collaboration with Aflatoun International, the company has developed a financial literacy platform built upon the pivotal position banknotes enjoy in emerging nations. This new platform connects the unique attributes of physical banknotes with a revolutionary digital learning ecosystem to significantly improve access to and the success of financial literacy initiatives.
Aflatoun International has been at the forefront of promoting social and financial education for over two decades, reaching millions of young people in more than 100 countries with the use of its unique social franchise model- and the network of 300+ partners globally. By integrating knowledge on financial literacy, social and emotional learning, and entrepreneurship, Aflatoun equips young individuals with the skills and mindset necessary to navigate an increasingly complex and interconnected world.
Roeland Monasch, Aflatoun International CEO commented on this new partnership by saying; "Through this ground-breaking partnership with Koenig & Bauer, Aflatoun International is excited to revolutionize financial literacy solutions by leveraging the power of banknotes as a tool for skill development. Our shared mission is to empower individuals worldwide with essential financial knowledge, enabling them to actively contribute to socioeconomic growth and improve their quality of life. Together, we will demonstrate that banknotes can serve as more than just a payment tool; they can become a powerful conduit for fostering financial literacy in cash-dependent societies".
Eric Boissonnas Koenig & Bauer Banknote Solutions CEO went on to say that; "The ability to understand and manage money is a key prerequisite to developing ones quality of life for themselves and their family. Societal development depends not only upon technological developments but upon the ability of people to understand and use such innovation to enjoy better and more stable lives. Together with Aflatoun International, Ministries for Education and Central Banks, we are committed to contributing to this process by providing inclusive, accessible and affordable financial literacy solutions for to the people who need it most in society."
Aflatoun and Koenig & Bauer look forward to embarking on this transformative journey together, combining their expertise and resources to empower young minds and build a brighter future.