Sustainability is one of the greatest challenges
Koenig & Bauer honors innovative contributions to sustainable printing with the Green Dot Award
Award winner Andres Kull, CEO Kroonpress, is delighted about the award and a total of 20,000 euros in prize money, of which 10,000 euros will be donated to a sustainability project of his choice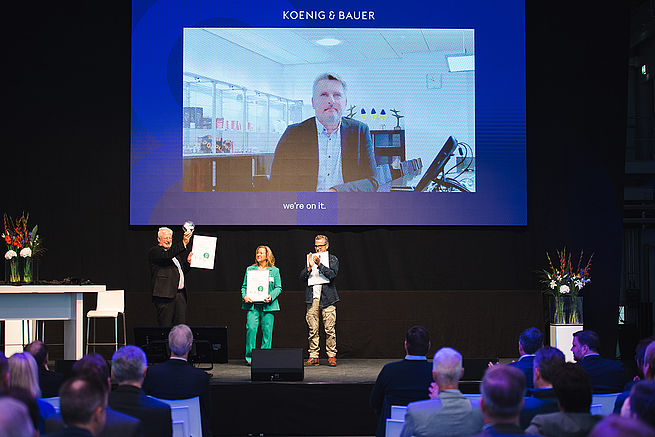 For the first time Koenig & Bauer presented the Green Dot Award 2022, which was specially created by the company, at a festive event during an Executive Summit on 30 September in Würzburg. Andres Kull, CEO of Kroonpress in Tartu/Estonia, is this year's winner. Frauke Oeding-Blumenberg, Managing Director of oeding print from Braunschweig, and Fabrice Peltier, an expert in packaging eco-design from Combloux/France, are pleased to be among the top three winners. Dr Andreas Pleßke, CEO of Koenig & Bauer: "From our global sales and service network we received many best-practice proposals with innovative sustainability projects from visionary leaders, which show that our industry is very committed and determined in handling this challenging future topic. It was not easy for our global leadership team to select the "Best of the Best" from these outstanding proposals."
Koenig & Bauer with comprehensive sustainability roadmap
As one of the three pillars of the corporate strategy "Exceeding Print", Koenig & Bauer drives sustainability as a special challenge of our time. One of the goals of the comprehensive roadmap is to support customers in their sustainability activities. With the Green Dot Award, Koenig & Bauer wants to honor a visionary leader with outstanding ideas who has already made innovative contributions to sustainable printing in a special way. The Green Dot winner receives 10,000 euros in prize money and a further 10,000 euros that are donated to a sustainability project of their choice.
Multi-stage selection process for the Green Dot Award
Over 1,000 people from the Koenig & Bauer sales and service network worldwide were asked to submit best-practice examples with innovative sustainability visionary leaders. A nomination committee with team members from Corporate Strategy & Development and Corporate Responsibility evaluated the submitted proposals according to the criteria of degree of innovation, degree of sustainability and multiplier effect. The final price was determined based on the top 3 via an anonymous online vote by Koenig & Bauer executives worldwide.
Andres Kull, CEO of Kroonpress in Tartu, Estonia
As the leading offset printer in the Baltics, Kroonpress has developed Greenline Print, a CO2 label to calculate and classify the greenhouse gas emissions of printed products over their life cycle. As a pioneer in sustainability reporting, the company, which has been certified in a variety of ways, sets annual sustainability goals and obtains 100 percent of its electricity from renewable sources.
Frauke Oeding-Blumenberg, Managing Director oeding print, Braunschweig
oeding print is one of the most sustainable print service providers in Germany and uses 100 percent green electricity and up to 25 percent production directly on site to proactively protect the environment and climate. The print shop has extensive certifications and bundles technology, know-how and environmentally friendly materials for green printed products. The proportion of certified papers increased from 30 percent in 2011 to over 80 percent. During the same period, the energy consumption per tonne of printed paper was reduced by 63 percent.
Fabrice Peltier, packaging ecodesign expert, Combloux, France
The renowned packaging designer and pioneer in eco-design has been committed to more responsible, more environmentally friendly packaging. As an expert in packaging design, he is a participant in ONUDI (United Nations Industrial Development Organization) and an advisor to packaging manufacturers in developing countries.